360° Skydeck
Skylight's 360˚ Skydeck is the first attraction of its kind in Nha Trang that allows guests to experience the beautiful beach city from unrivaled heights. The 360-degree view includes the bay, city and mountain regions with different perspectives during daytime and evening hours. Come take a #SkylightSelfie from this one-of-a-kind destination!

Open daily from 8:00 – 14:00, 16:30 – 00:00.
Skywalk
Located on the 43rd floor, the glass skywalk allows guests to look directly down to the ground floor, creating spectacular and exciting photo opportunities.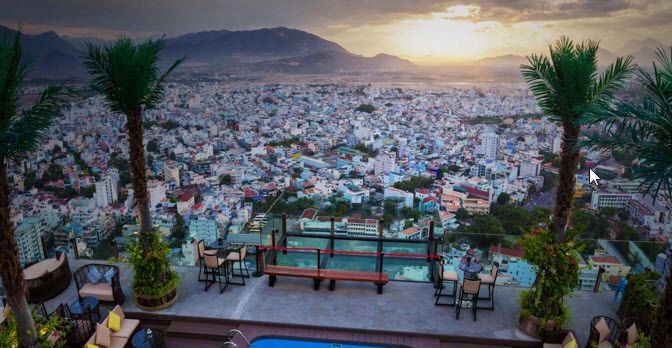 Lighthouse
Standing tall and shining as a beacon for Nha Trang Bay, Skylight is home to the world's tallest lighthouse. It can be spotted from anywhere in the city.
Rooftop Beach Club
Skylight is the first rooftop beach night club in Vietnam and features handcrafted, specialty cocktails, ice-cold, draught beers served at zero degrees, international Pan-Asian cuisine, and unparalleled live entertainment.

This world-class venue is designed and operated by international hospitality company, See The World Group (Los Angeles). Skylight sets out to make Nha Trang a must-visit destination in Vietnam and Southeast Asia.

Open daily from 16:30 – 00:00.